For a brand to be successful and maintain its foothold in the market, it is necessary and important to always focus on the quality of each product before it is delivered to consumers. Accordingly, ISO 9001:2015 certification is a powerful assistant to help optimize product quality. In this article, Alta Plastic will share relevant information about ISO so you can clearly understand.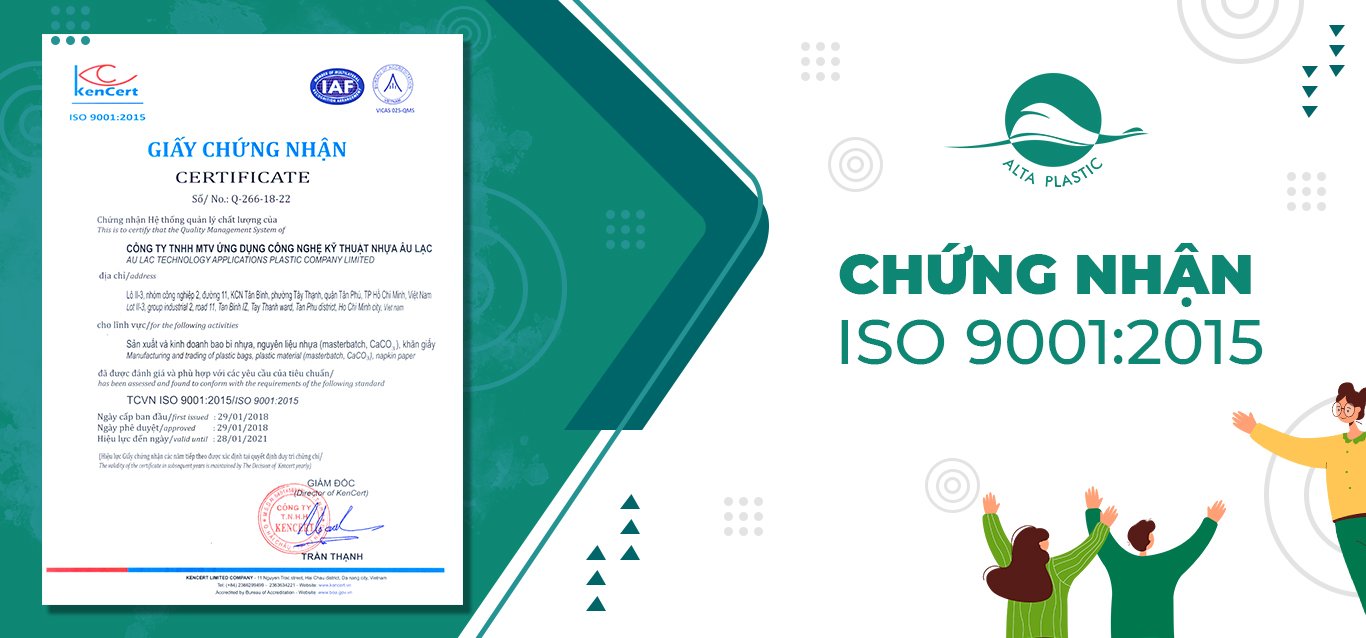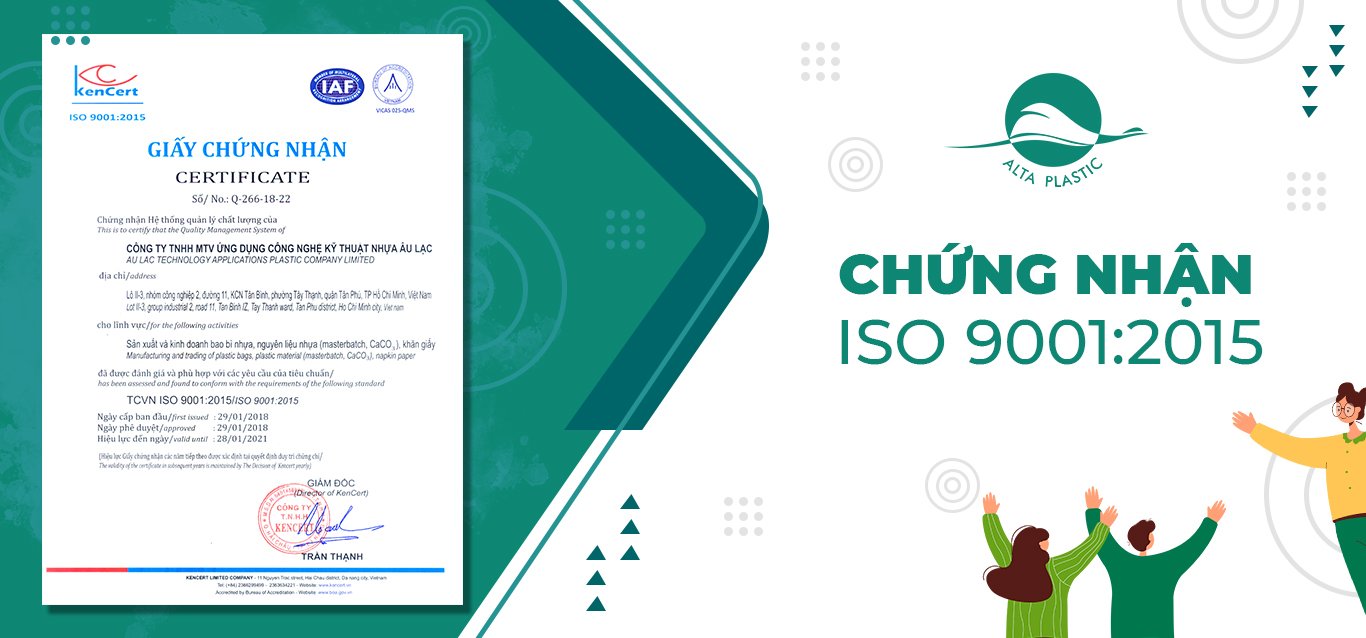 ISO is the abbreviation for the International Organization for Standardization, an international standard-setting body that sets commercial and industrial standards worldwide. By 2018 ISO had 161 national members. In 1977, Vietnam joined and became the 77th member of this organization.
Issued on September 24, 2015 by the International Organization for Standardization (ISO). With the purpose of helping organizations build, apply and operate quality management systems. It can be said that ISO 9001:2015 is considered the most important and popular standard today, helping to set out principles and requirements to establish a quality management system in businesses.
5 benefits of ISO 9001:2015 certification?
Benefit 1: Increase competitive advantage
Businesses that achieve Certificates in accordance with International Standards ISO 9001:2015 will have a competitive advantage over competitors in promoting their brands, product quality and services. Issuing an ISO Certificate is also an opportunity for the bidding process for large enterprises to go more smoothly, because currently there are many businesses that require partners to obtain an ISO certificate before agreeing to transact.
Benefit 2: Build trust with customers
Establishing a quality management system according to international standards, this certificate serves as a quality commitment for customers. From here, build trust and brand through the quality of products that businesses bring.
Benefit 3: Product quality is always guaranteed
Due to scientific and strict management based on international standards, inputs are strictly managed, product/service quality is stable, sales service quality is improved and continuous improvement is achieved. product quality.
Benefit 4: Create a professional working environment
When applying ISO 9001:2015, the work performance processes are standardized. Accordingly, managers and employees within the enterprise will understand the assigned tasks, understand and always be responsible for their powers. From there, contributing to stabilizing the service delivery process, creating products with the best quality and minimizing errors.
Awareness of risks and opportunities for each business will be enhanced and become a mandatory requirement. Thanks to that, the ability to promptly respond to risks and incidents in each business will be significantly enhanced and improved, contributing to the best development of the business.
Alta Plastic is proud to provide products that meet ISO 9001:2015 standards
Au Lac Plastic Technology Application Company Limited (Alta Plastic) is one of the best plastic technology application companies in Vietnam, and will always be a great choice for you. Not only that, achieving the International Standard ISO 9001:2015 also contributes to affirming Alta Plastic's professionalism and dedication, and desire to bring the best product experience to customers.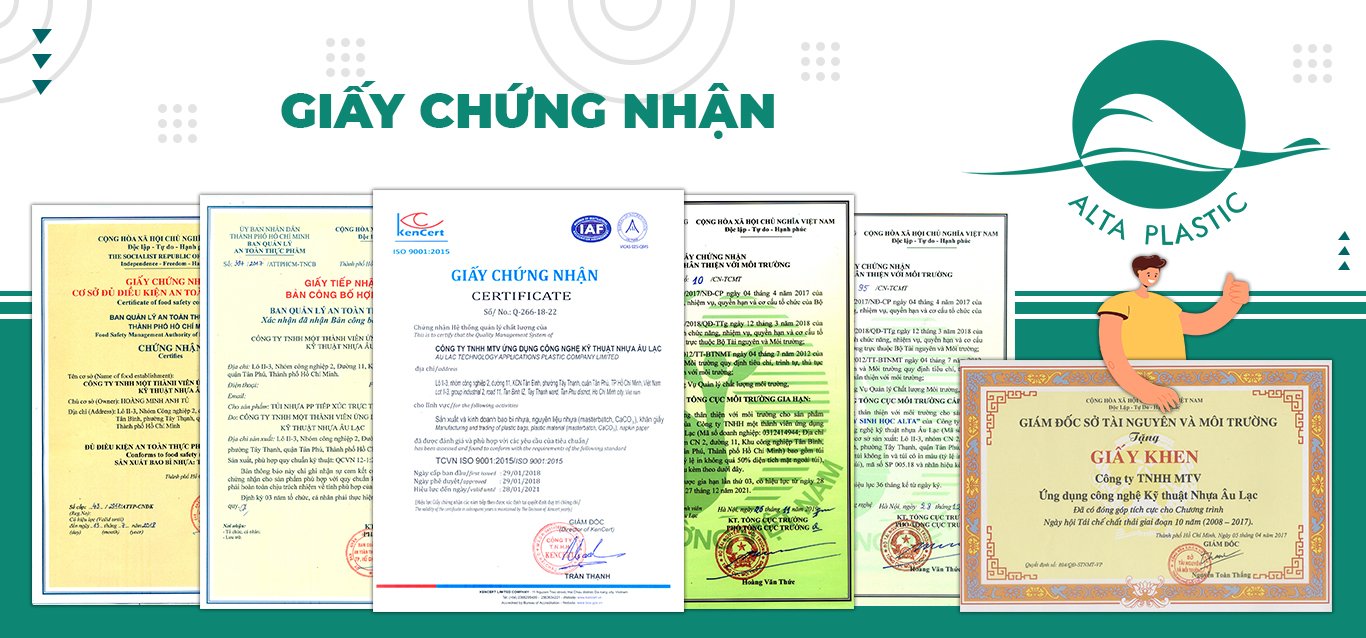 In addition, Alta Plastic also achieved many certifications as:
ISO 9001:2015 – Quality Management System Certification for the production and sales of plastic packaging, plastic materials, and tissue paper.

Certification of establishments meeting food safety conditions according to regulations on the production of plastic packaging: plastic bags

Certificate of environmentally friendly plastic bags
Above is some basic information about ISO 9001:2015 certification and the commitment to prestige in each product that Alta Plastic brings. Our product line is currently trusted by many businesses and is present in many large supermarket systems nationwide: BigC, Lotte, Bach Hoa Xanh, Mega market… easy to find and buy. To find out more information about the product, please contact us for advice.