Alta Plastics Successfully Spreads "Green" Living at Green Growth Show 2023
Green Growth Show 2023 is the largest exhibition project on green energy in Vietnam. During the 5 days of the event, Alta Plastics is pleased to welcome delegates, partners, and customers, spreading successfully "green" living spirit with environmentally friendly products.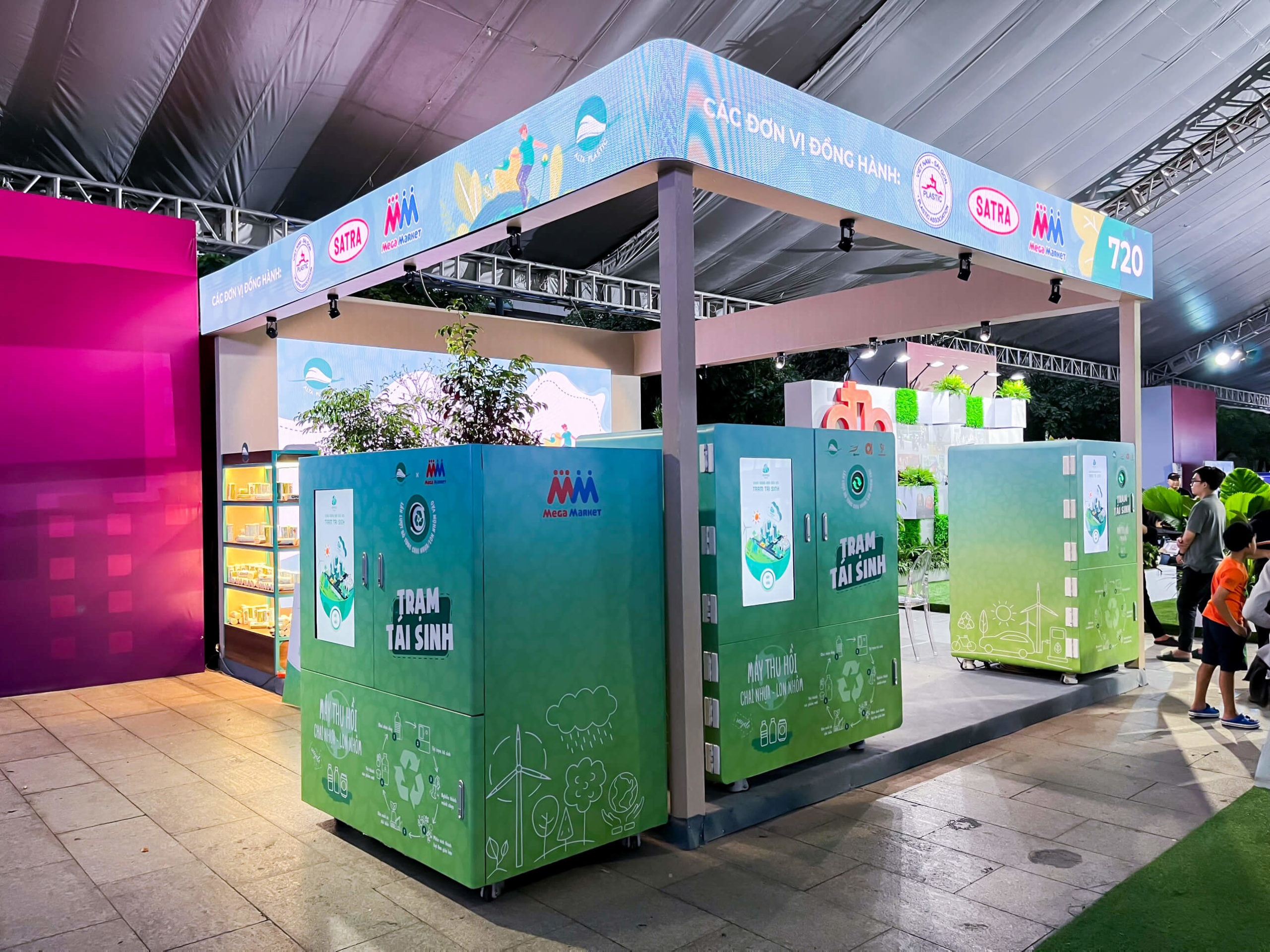 Taking place from September 13 to September 17, 2023, Green Growth Show 2023 attracts many visitors with interesting activities. This is an event within the framework of the 4th Ho Chi Minh City Economic Forum organized by the People's Committee of Ho Chi Minh City. At the opening ceremony, Vice Chairman of Ho Chi Minh City People's Committee Vo Van Hoan shared the role of businesses in the journey towards green growth goals. Therefore, the program gathers 100 domestic and international enterprises with leading brands in Vietnam. Responding to the theme "Green Growth – A Journey towards Zero Emission Reduction", Alta Plastics is pleased to attend Green Growth Show 2023, building an exhibition booth with innovative environmentally friendly solutions.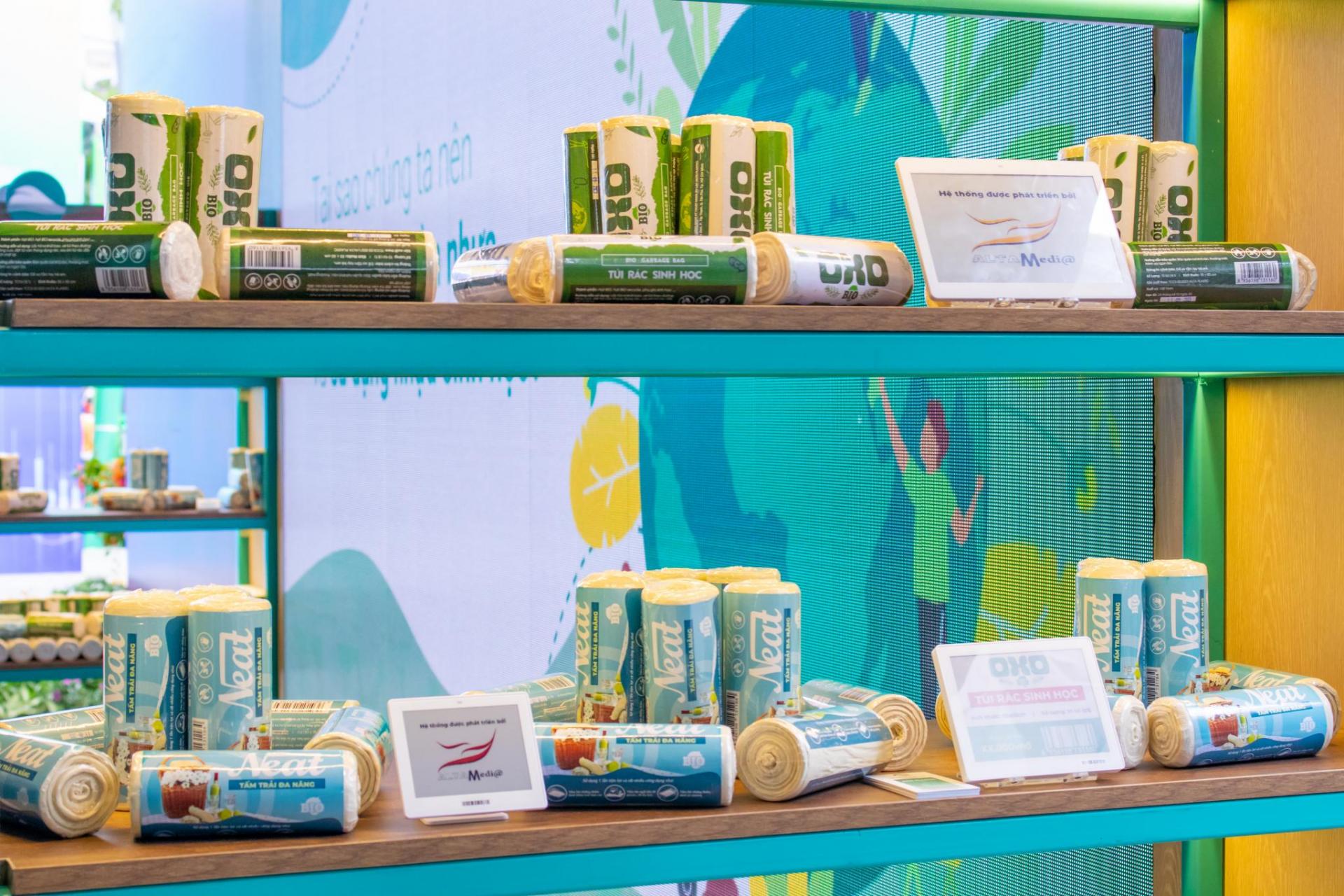 As a reputable enterprise in the field of plastic packaging production, Alta Plastics offers bioplastic packaging systems. By applying modern technology, Alta Plastics bioplastic packaging has a faster decomposition time than traditional types. At the Green Growth Show 2023 exhibition booth, customers will be able to observe a research model of bioplastic bags in the environment to better understand Alta Plastics products.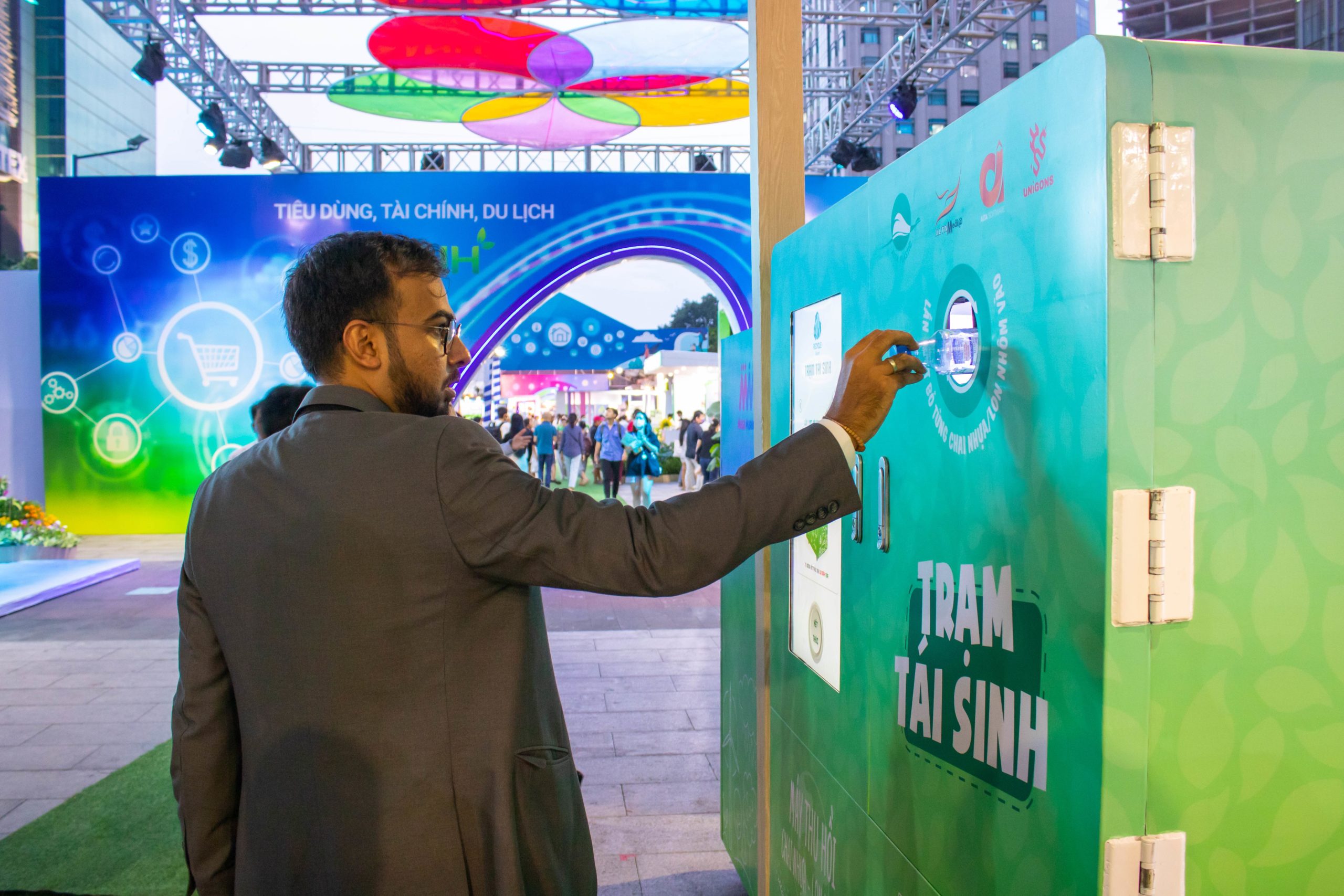 Above all, the Reborn Station become a spotlight that everyone is interested in. This is a "green" invention that applies modern technology to automatically identify and collect used plastic bottles and aluminum cans. The machine will crush, separate into plastic pieces and then be transported to a recycling facility to continue producing new finished products.
By integrating with technology, the Reborn Station possesses environmentally useful features, attracting a lot of attention from visitors to the exhibition. At the same time, at this exhibition event, Alta Plastics cooperated with SATRA and Mega Market in the Recycling Station project to encourage people to take action to recycle.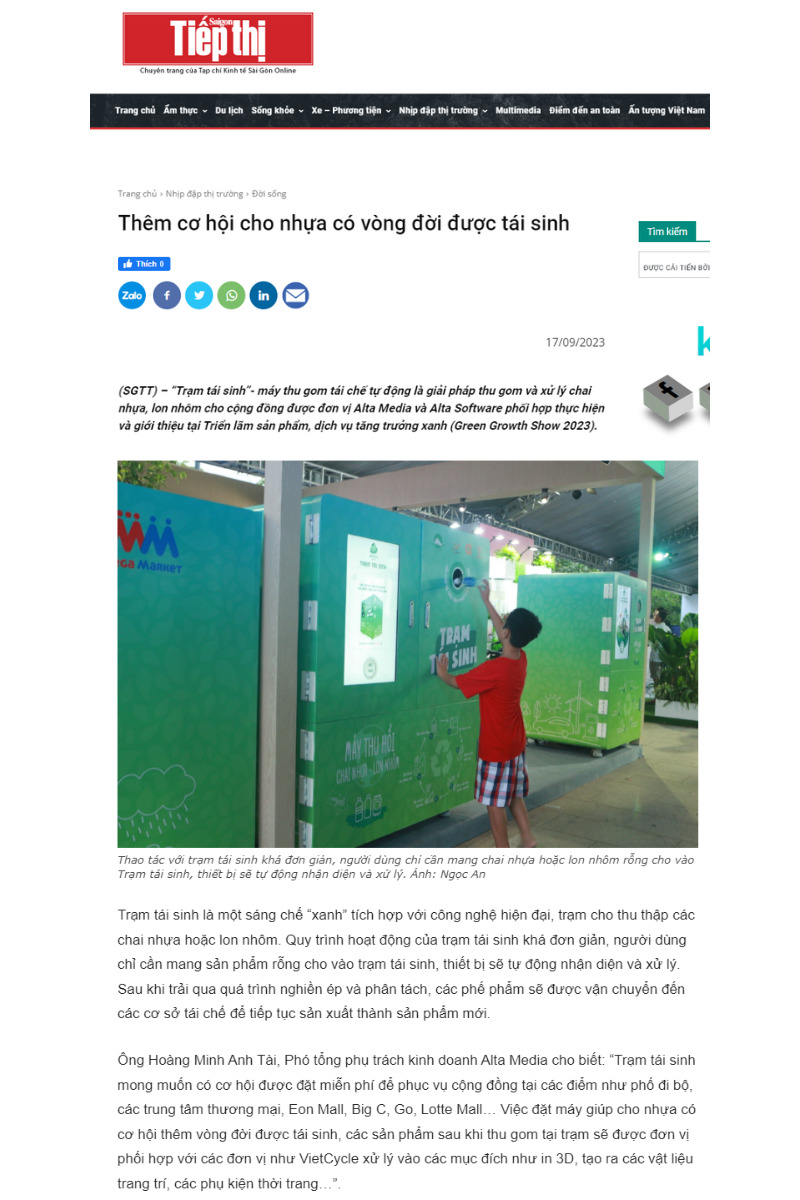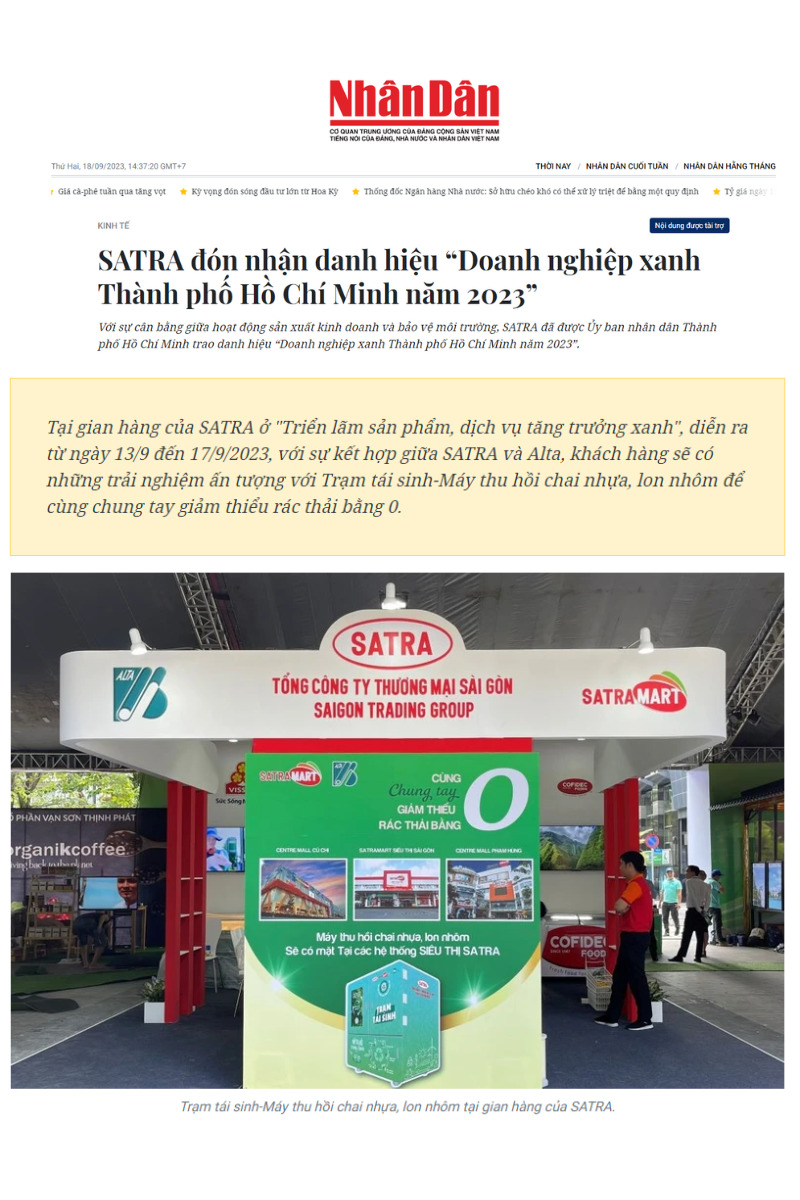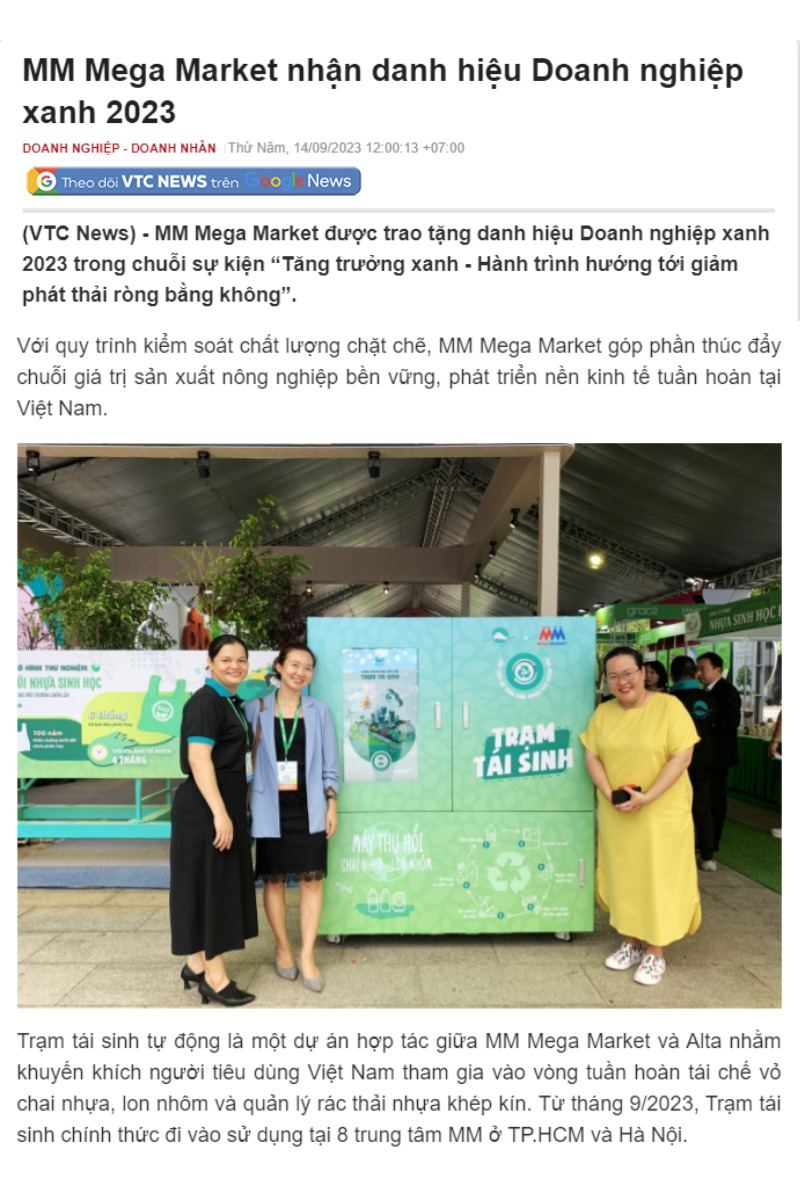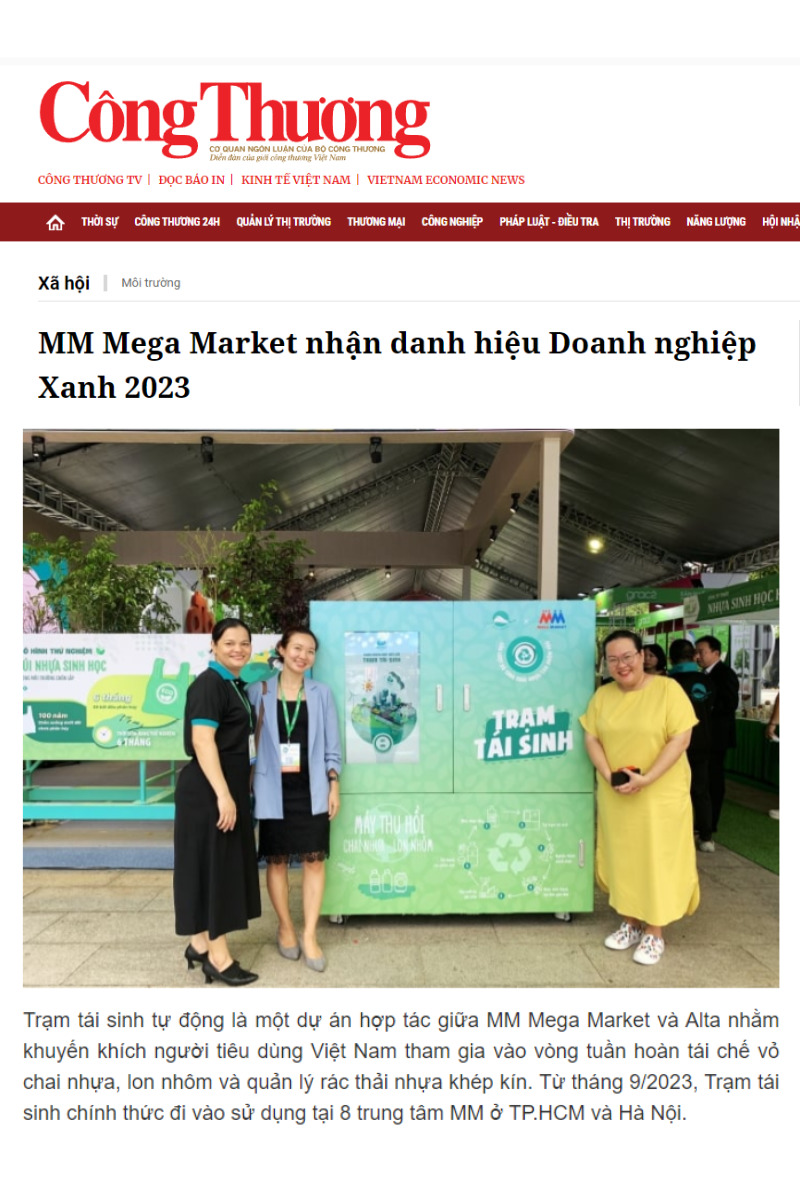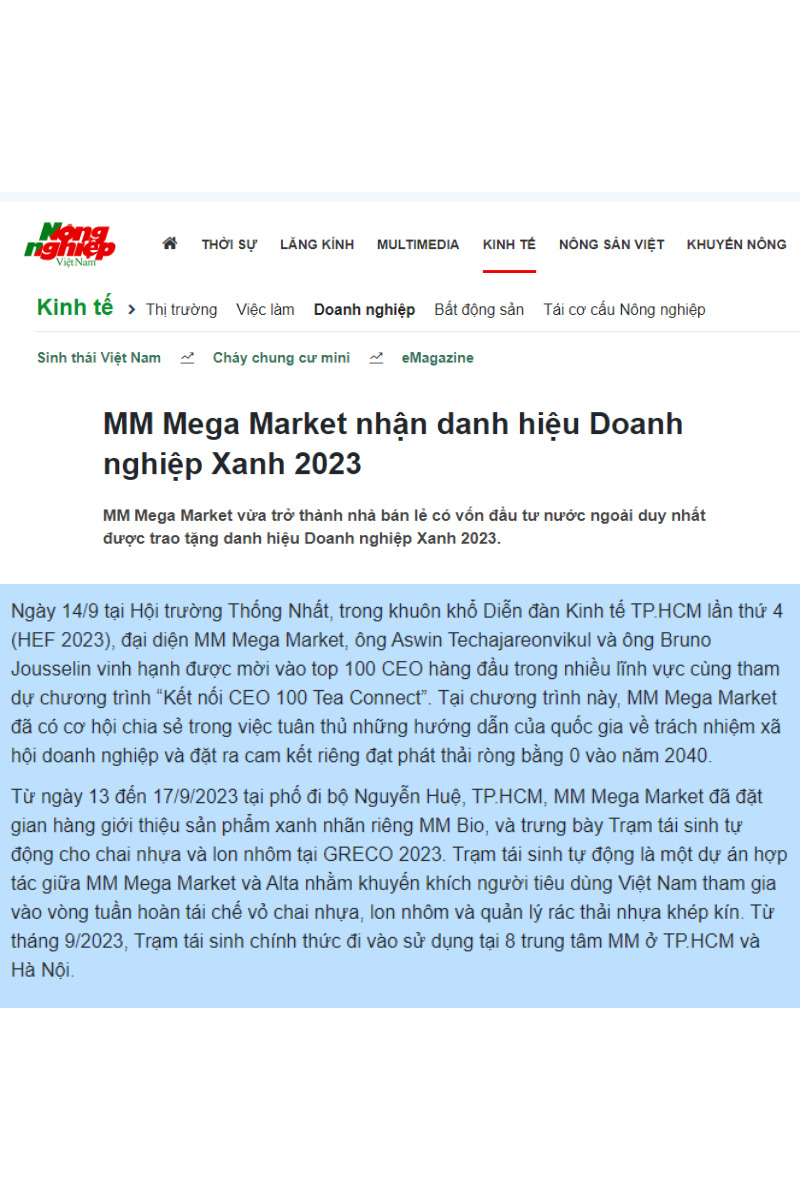 Reborn Station received attention from many newspapers
After contributions to the environment, Alta Plastics is honored at the Green Growth Show 2023 event, receiving the Green Standard Booth award. Previously, on July 22, at the 2023 Business Communication Program for Building and Developing a Green Economy organized by the Vietnam Environmental Economics Association, Alta Plastics received the Environmentally Friendly Brand award 2023 and Businesses for Green Economic Development in 2023.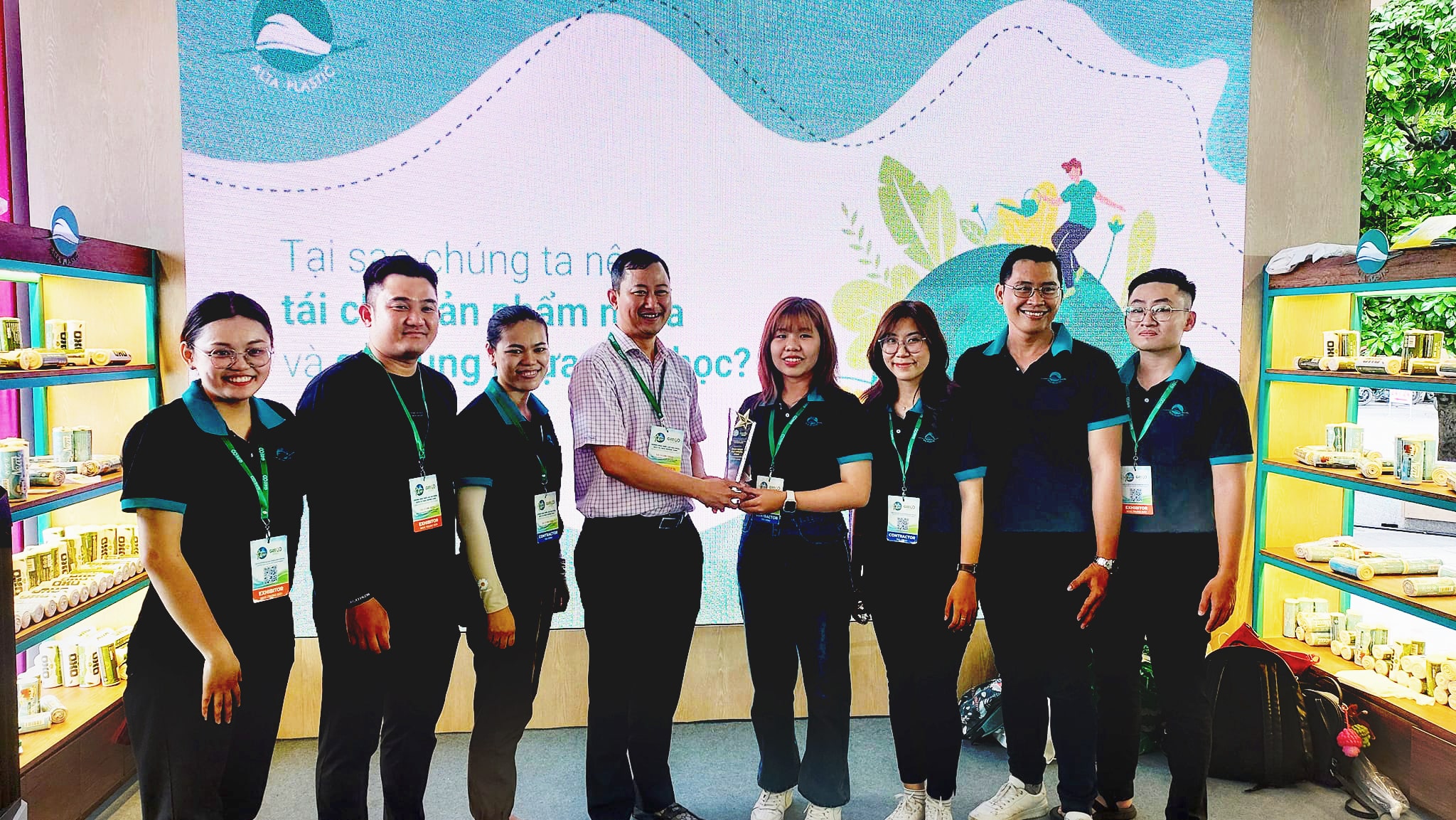 These awards are confirmation of Alta Plastics' continuous efforts over the past time. This is also a source of motivation for Alta Plastics to continue striving to create new products that are useful for the environment, contributing to achieving the goal of sustainable development.
Through more than 20 years of establishment and development, Alta Plastics puts the mission of acting for the environment and community first. To this day, Alta Plastics has affirmed its position in the bioplastic packaging market, becoming a reputable partner for many Vietnamese and international brands.
Closing the 5-day exhibition at Green Growth Show 2023, Alta Plastics is proud to become a business that contributes to the environment, spreading the spirit of "green" living to the community. We believe that through this event, consumers will have memorable experiences, better understand green products and services, and raise awareness about protecting the environment together.